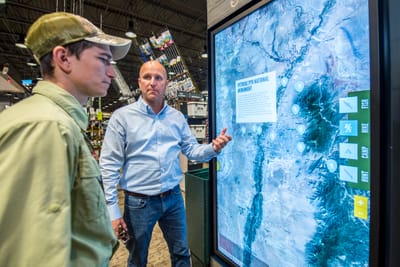 Bringing the Great Outdoors to Visitors Eyes and Fingerprints

"Trailhead" kiosks featuring all of your favorite outdoor activities.
The Trailheads feature shared content, including an interactive map with local hunting/fishing/hiking/camping locations and a "Brag Board" showcasing local social media posts. Along with these shared items, each Trailhead also has content unique to each natural attraction in Northwest Colorado. All content can be viewed either on the 75-inch touch screen kiosk or through the virtual reality headset.
When using the camping Trailhead, visitors can view available camp sites and make reservations, and even view photos that offer a 360-degree view of the area.
The hunting, fishing, snowmobiling, cross country skiing etc. Trailheads contain similar interactive features.
You can print maps and brochures of all of the natural features of Northwest Colorado.